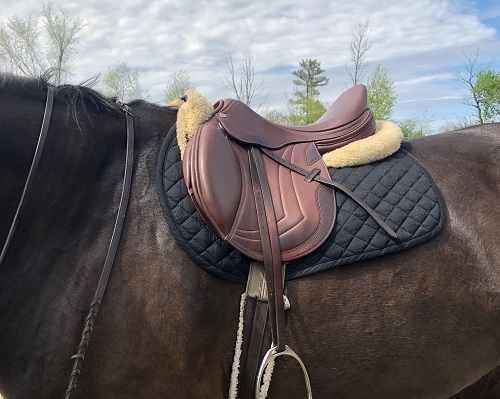 "A brand new saddle;" a phrase us equestrians love to hear. A brand new saddle means soft leather, no cracks, no rips, and the excitement of something new. After getting the new saddle and staring at it for a minute, though, the thought of having to break it in kicks in. Just like a new pair of tall boots, there is expected to be a period of discomfort for the rider. However, the first few times riding in the Collegiate Triumph Saddle were a dream! Yes, there was slight discomfort the first ride because the saddle had never been sat in before, but by the end of the week the seat was soft and comfortable.
The leather is a beautiful color and cleans up nicely after each ride. Though the leather is thicker due to higher quality, you are still able to feel the horse beneath you, aiding in the connection between the horse and rider. The detailed stitching and streamlined seat makes this saddle flashy, yet practical at the same time.
The equitation skills of each team member who rode in this saddle improved greatly. The soft yet sticky leather allowed security in the tack, and the higher cantle height was a useful tool for jumping lessons. Our riders were more connected and didn't fall behind over a fence the way other jumping saddles allow. By working on our position both on the flat and over fences, our competitiveness in IHSA improved which can be seen by the ribbons hung up in our barn!
The fit of the saddle to our horses depends on the horse, of course. However, with the medium gullet, it does fit most of our school horses. At a barn with a variety of breeds and sizes of school horses, it is impossible for a saddle to fit every one of them comfortably. However, with the proper saddle pads it does fit the majority.
The comfort of our horses and riders is our priority, and the Collegiate Triumph Saddle met our expectations for both.