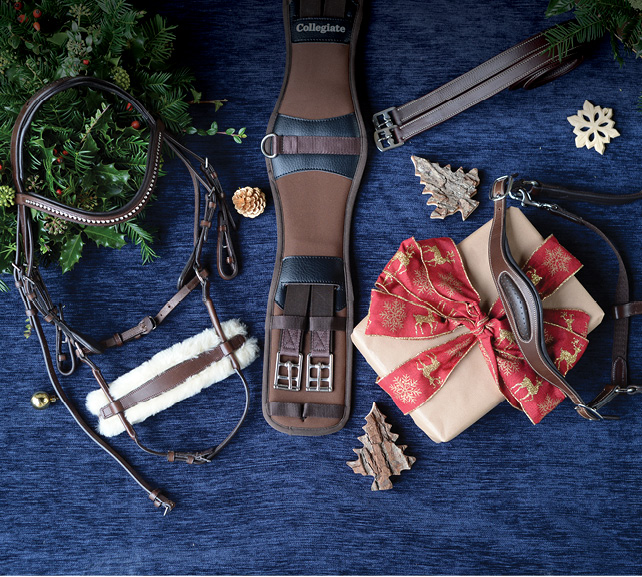 Here at Collegiate Saddlery, we would like to help you find the perfect gift for a loved one.
Looking for some inspiration, but don't know where to start? We have put together a selection of gifts to suit everyone.
Our Collegiate ComFiTec Sheepskin Bridle is the perfect gift for anyone who enjoys everyday riding through to competition. The delicate crystal detailing of the browband, combined with the luxurious sheepskin noseband makes this a wonderful gift. Additionally, the double padding of the anatomical headpiece and ergonomically shaped noseband provides the ultimate in comfort for the horse by allowing for maximum freedom of movement and relief of pressure on the facial nerves.
Sounds ideal, but looking for a gift at a lower cost? Our Collegiate ComFiTec Leather Halter offers the same level of comfort in a halter version! The anatomically shaped headpiece works to evenly distribute pressure across the poll, making this gift ideal for travelling and grooming.
Alternatively, our super popular Collegiate Memory Foam girths are the gift that keep on giving! This shaped neoprene, anti-chafe gifts uses memory foam padding to offer the optimum in comfort whilst riding or training. Available in both Short/Dressage and Standard/Long in black or brown, there is something for everyone.
Take a look at our full Holiday gift guide here: www.collegiatesaddlery.com/christmas